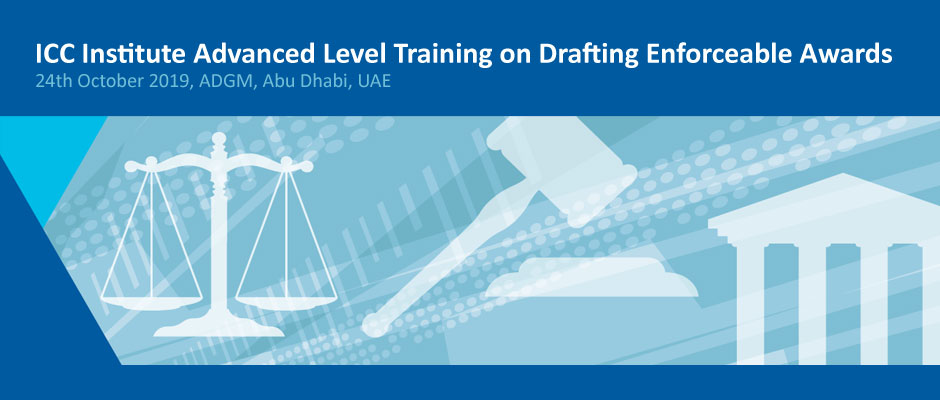 ICC Institute Advanced Level Training On Drafting Enforceable Awards
24th October 2019, ADGM, Abu Dhabi, UAE
| | |
| --- | --- |
| Location: | ADGM Abu Dhabi, United Arab Emirates |
| Date: | Thursday, 24th October 2019 |
| Event Type: | Training |
| Language: | English |
Description:

During this training participants will receive first-hand guidelines and knowledge on best practices pertaining to award legal drafting styles. How legal systems and traditions can influence drafting techniques. How to improve the quality of the award, by getting away from the "copy and paste" drafting style, to properly reflect the reasons behind the arbitral decision, identifying how much "reasoning" is necessary to render a fully convincing award and secure its enforceability.

During the training, a working group session will be held where participants will be given the opportunity to study a draft award, in the conditions in which a draft award would be reviewed by the Secretariat before scrutiny by the ICC Court.

The working group session will be followed by a mock Court session on the scrutiny of the award by the ICC Court to give participants an insight on the type of discussions that are held between members of the ICC Court and representatives of the Secretariat when reviewing a draft award. The parties to this mock court session will debate on the draft award reviewed by the working groups.




WHO SHOULD ATTEND




Practising lawyers
Corporate counsel
Arbitrators
Mediators
Business professionals and academics coming from or doing business in the region




| | | |
| --- | --- | --- |
| ORGANIZED BY: | SPONSORED BY: | SUPPORTED BY: |
| | | |



Programme

09.00 - 09.15
Welcoming address, introduction and presentation of the ICC Institute of World Business Law

• Mohamed S. Abdel Wahab
Chair
• Sami Houerbi
Director for Eastern Mediterranean, Middle East & Africa,
ICC International Court of Arbitration, Abu Dhabi/Tunis
09.15 - 10.00
Drafting an arbitral award: which drafting style?

Participants will receive first-hand guidelines and knowledge on best practices pertaining to award legal drafting styles. How legal systems and traditions can influence drafting techniques, the different approaches in civil and common law. How to improve the quality of the award, by getting away from the "copy and paste" drafting style, to properly reflect the reasons behind the arbitral decision, identifying how much "reasoning" is necessary to render a fully convincing award and secure its enforceability.

• Mohamed S. Abdel Wahab
• Nagla Nassar
Arbitrator & Senior Partner – Nassar Law- Cairo
10.00 - 10.30
Discussion
10.30 - 11.00
Coffee break
11.00 – 12.00
Drafting an arbitral award: spotlight on specific issues This session will focus on particular sections of the award which often present difficulties and challenges in particular: (1) Jurisdiction and applicable law (2) Damages (3) Auxiliary remedies: interest and costs
• Nadine Debbas Achkar
Attorney & Arbitrator -Visiting Professor, NYU AD, AUB, ESA – Beirut
• Jonathan H. Sutcliffe
Partner - K&L Gates LLP – Dubai
• Soraya Corm -Bakhos
Counsel - International Commercial Arbitration, DWF (Middle East) - Dubai
12.00- 12.30
Discussion
12.30 - 14.15
Lunch
14.15 - 14.45
Introduction to scrutiny of the award by the ICC International Court of Arbitration (ICC Court)

Participants will gain a deeper insight into a distinctive feature of ICC arbitration, the ICC Court's scrutiny of all draft awards. An ICC representative will share his/her expertise on the ICC Court scrutiny process, the different levels of review, the assistance and tools provided by the Secretariat of the Court, such as the "ICC Award Checklist", to help arbitral tribunals, although respecting their liberty of decision, draft more legally effective awards.

• Asli Yilmaz
Counsel -International Court of Arbitration - International Chamber of Commerce- Paris
14.45 - 15.00
Discussion
15.00 - 16.15
Working groups: draft award review before scrutiny by the ICC Court

Participants will be given the opportunity to study a draft award, in the conditions in which a draft award would be reviewed before scrutiny by the ICC Court. Each working group will be responsible for reviewing the draft award and will make its comments as if it were a Counsel of the Secretariat of the ICC Court.

• Asli Yilmaz
• Sana Belaid
Senior Counsel for the Middle-East and Africa, Cisco - Independent Arbitrator- Dubai
• Sami Houerbi
16.15 - 16.45
Coffee break
16.45 - 17.30
Mock Court session: scrutiny of the award by the ICC Court and debate

This is an opportunity for participants to witness the type of discussions that are held between members of the ICC Court and representatives of the Secretariat when reviewing a draft award. The parties to this mock court session will debate on the draft award reviewed by the working groups.

• Mohamed S. Abdel Waheb
• Asli Yilamz
• Sana Belaid
17.30 - 17.45
Concluding remarks

• Hassan Arab
Chair, ICC UAE Commission on Arbitration & ADR
Regional Head of Dispute Resolution – Al Tamimi & Co- Dubai
• Dania Fahs
Deputy Director – ICC Middle East and North Africa –Abu Dhabi



Speakers

Asli Yilmaz
Counsel, International Court of Arbitration, International Chamber of Commerce, Paris

Ms Aslı Yılmaz is the counsel of the Eastern Mediterranean and Middle East Team at the ICC Secretariat.

During her time at the ICC as both deputy counsel and counsel, Ms Yılmaz has administered hundreds of arbitration cases from multiple regions including Europe, Northern Africa and the Middle East region.

Prior to joining the ICC, she worked as an arbitration lawyer at international law firms in Istanbul, Paris and New York.

Ms Yılmaz received her law degree from Warwick University and also holds an LL.M. in International Law from London School of Economics.

She is admitted to practice in the State of New York and Istanbul.
Her working languages are English, Turkish and German.

Dania Fahs
Deputy Director, ICC Middle East and North Africa, Abu Dhabi

Before joining ICC in 2018 for the setting up of their ICC MENA office, Dania had a (13 +) years of mixed experience as attorney in private practice and in-house counseling. She is specialized in commercial, intellectual property and corporate law. She relocated to Dubai in 2014 when she joined Al Tamimi Law Firm. She has advised on a broad range of commercial contentious and non-contentious matters as well as assisted clients in negotiating complex cross border transactions and managing their IP portfolios.

Prior to joining ICC, Dania was a senior legal counsel at BAT Corp and Oracle Corp. She has an extensive international experience in advising multinational boards on a wide range of legal and strategic issues as well as assessing risk and long term impact of transactions, litigations and corporate matters on business strategy and shareholder value.

Prior to relocating to UAE, Dania was a former lecturer in American Business Law at the American University of Beirut, and in Civil Law at the Lebanese University (Filière Francophone de Droit). She is certified as Trainer of Trainers by the WIPO Arbitration and Mediation Centre (2009).

Dania holds a Phd in Contractual Law (2007 University Montpellier I -France) Dir. Prof. Jacques Raynard and a post graduate microprogramme degree in IP and Alternative Dispute Resolution ( 2009- University of Montreal). She also holds an Executive MBA from INSEAD (2018)

Hassan Arab
Chair, ICC UAE Commission on Arbitration & ADR, Dubai
Regional Head of Dispute Resolution, Al Tamimi & Co, Dubai

AREAS OF ARBITRATION EXPERTISE:
Hassan Arab regularly sits as an arbitrator in complex and commercial cases with a national wide practice. His practise includes all forms of civil and commercial litigation, arbitration, ADR, recognition and enforcement of foreign judgments and arbitral awards. As an arbitrator, he has extensive experience and arbitrated several claims under leading international arbitration institutions. He provides expert opinions on the UAE laws before several arbitration tribunals and foreign courts.

Hassan Arab obtained his Doctorate Degree in Law from the University of Essex in UK. His doctoral thesis is titled "Critical Study of the Concept of International Arbitration in the UAE: Identifying Problems Affecting the Recognition and Enforcement of Foreign and International Arbitral Awards". He has a Law Degree from Beirut University in Egypt. Hassan has a Master's Degree in International Business from the University of Wollongong and Practice Diplomas in International Arbitration Law and International Commercial Law from the College of Law, UK.

Chambers Global has commented Hassan Arab as a "real winner who gives excellent advice and solutions". Hassan Arab is also listed in the prestigious category of Arbitration Future Leaders 2017 by Who's Who Legal.

YEARS OF ARBITRATION EXPERIENCE:
10 Years

NUMBER OF ARBITRATOR APPOINTMENTS:
Hassan Arab is listed panel arbitrator for:


International Centre for Settlement of Investment Disputes (ICSID)
International Chamber of Commerce (ICC).
Singapore International Arbitration Centre (SIAC) Panel of Arbitrators
DIFC-LCIA Arbitration Centre.
Cairo Regional Centre for International Commercial Arbitration (CRCICA).
Asian International Arbitration Centre (AIAC).
Dubai International Arbitration Centre (DIAC).
Sharjah International Commercial Arbitration Centre (TAHKEEM).

NUMBER OF ARBITRAL AWARDS ISSUED:
SEVEN

SEATS OF ARBITRATION:
UAE, London

APPLICABLE GOVERNING LAWS:
UAE Laws, Laws of London and Wales

INSTITUTIONAL RULES:
ICC, DIAC and Sharjah International Commercial Arbitration Centre

Jonathan Sutliffe
Partner, K&L Gates LLP, Dubai

Jonathan Sutcliffe is a partner in K&L Gates' Dubai office, where he has been a member of the international arbitration practice group since joining in May 2018. Prior to joining K&L Gates, Jonathan served as a partner at an international law firm in Dubai and as a partner and associate at international law firms in London, New York, and Houston. Jonathan has over 24 years' experience as a lawyer, of which ten years have been spent in Dubai.

Jonathan has acted for clients on a diverse range of international commercial arbitration, ADR, and litigation matters in the energy, construction, hospitality, real estate, defence, insurance, international joint venture, and film sectors, and on investor-state disputes.

Jonathan sits regularly as an arbitrator, including under the rules of arbitration of the ICC, DIFC-LCIA, DIAC, and ADCCAC, and in ad hoc arbitrations.

Jonathan is qualified in England and Wales and New York, and is registered as an advocate in the DIFC Courts.

He is recommended for international arbitration and projects and energy disputes by various leading legal guides, including Chambers, The Legal 500, and The International Who's Who of Commercial Arbitration.

Mohamed S. Abdel Wahab
Founding Partner and Head of International Arbitration, Zulficar & Partners, Cairo
Chair of Private International Law, Cairo University, Cairo
Vice-President, ICC International Court of Arbitration, Paris

Prof. Dr. Mohamed S. Abdel Wahab is the Chair of private international law and professor of international arbitration at Cairo University (Egypt); Founding Partner and Head of International Arbitration at Zulficar & Partners (Egypt); Vice President of the ICC International Court of Arbitration; Member of the Advisory Council of Africa Arbitration; Member of the CIMAC Court of Arbitration; Member of AAA-ICDR International Advisory Committee; Member of CIArb's Board of Trustees; Member of the Advisory Committee of the CRCICA; Vice-Chair of the IBA Arab Regional Forum; Dean of the African Arbitration Academy; Associate Fellow of the Centre of Private International Law at Aberdeen University (UK); Fellow of the Center for Technology and Dispute Resolution, University of Massachusetts (USA); Member of the ICODR's Governing Board; and Member of Arbitrator Intelligence's Board of Advisors. He is also an International Expert Member of the Permanent Forum of China Construction Law; Member of the Editorial Board of the ClArb's Arbitration Journal; Member of the Editorial Advisory Board of the Journal of Enforcement of Arbitration Awards; Member of the Editorial Board of the IBA Journal of Construction Law International; and Co-Editor of 'Online Dispute Resolution: Theory and Practice' (2012), which received the CPR Award for the Best Published Dispute Resolution Work (2013).

He served as 'Sole', 'Presiding' and 'Party Appointed' Arbitrator, 'Counsel' and 'Legal Expert' in more than 190 cases. In 2018, Prof. Dr. Abdel Wahab received the Swiss Arbitration Association's International Arbitration Global Advocacy Prize. He features in AFRICA's 100 list of African arbitration practitioners by I-ARB (Africa) and was selected by Africa Arbitration as the African Personality of the Month (June 2018) and by the LACIAC (Lagos Chamber of Commerce International Arbitration Centre) as the Arbitration Personality in May 2019. In June 2019, Prof. Dr. Abdel Wahab received the AYA Hall of Fame Award in London for the African Arbitrator of 2019.

Who's Who Legal (2019) says: Mohamed Abdel Wahab is 'a leader in the space' who is "at the top of the market". Who's Who Legal Construction (2019) says: Mohamed Abdel Wahab is highlighted as 'a leading heavyweight construction law specialist whose analytical skills are second to none'. The Legal 500 (2019) stated Mohamed Abdel Wahab as 'an arbitration expert with a global reputation', who is 'one of the best in the world'.

Nadine Debbas Achkar
Attorney & Arbitrator, Beirut
Visiting Professor, NYU AD, AUB, ESA

Nadine is a Chartered Arbitrator specializing in international arbitration, having started her career as an attorney within Shearman & Sterling's Arbitration Group in Paris. She currently serves both as arbitrator and as counsel. In the past few years, she has been appointed as Tribunal Chair, Sole Arbitrator or Co-Arbitrator in numerous arbitrations arising from a wide range of disputes. Nadine is a Fellow of the Chartered Institute of Arbitrators.

In parallel to her arbitration practice, Nadine also advises on corporate/commercial transactions and project development. She previously served as the General Counsel and Senior Vice President (2007-2011) of Abu Dhabi Basic Industries Corporation PJSC (ADBIC, now merged into SENAAT), one of the UAE's largest industrial investment holding companies, mandated by the Abu Dhabi Government to be a key contributor to Abu Dhabi's Economic Vision 2030.

She is a Visiting Professor at New York University Abu Dhabi where she teaches a Seminar on International Commercial Arbitration. She is also a Lecturer in Business Law at the American University of Beirut and teaches International Business Law as part of the Executive MBA core curriculum at the Ecole Supérieure des Affaires (ESA), affiliated with ESCP Europe.

Nadine holds a Juris Doctor from Columbia University School of Law and a Bachelor of Arts in Economics from Georgetown University. She is a member of the New York Bar. Nadine is a native speaker of Arabic, English and French and is fluent in Spanish.

Nagla Nassar
Arbitrator & Senior Partner, NassarLaw, Cairo

Dr. Nagla Nassar is Senior Partner at NassarLaw which was established in 1885. Before joining NassarLaw she was Senior partner at a leading Egyptian Law firm which she joined upon her return from the World Bank where she was with the ICSID Secretariat. She graduated from Cairo University and Trinity College where she got her M. Litt and has an LL.M from Harvard University as well as a PhD from Geneva University and the Diploma of The Hague Academy in Private International Law. She has several publications relating to arbitral practice.

She has practiced in several jurisdictions and is a member of several bars and arbitration forums including being a fellow of the Chartered Institute of Arbitrators with many years of experience both as an arbitrator and counsel in institutional and ad hoc arbitration. She acted as counsel in many major disputes in different fields serving both multinationals and Egyptian entities. Also, Dr. Nassar is appointed frequently as an arbitrator and has chaired many tribunals.

Sami Houerbi
Director for Eastern Mediterranean, Middle East & Africa, ICC International Court of Arbitration, Abu Dhabi / Tunisia

Sami Houerbi is the Director of the ICC Eastern Mediterranean, Middle-East and Africa ICC Dispute Resolution Services, where he is in charge of raising awareness about Alternative Dispute Resolution mechanisms throughout the region and promoting ICC Arbitration and ADR Rules.

Prior to that, he was member of the Secretariat of the International Court of Arbitration in Paris, where he was directly involved in the administration and managing ICC arbitration proceedings.

Mr Houerbi is a registered lawyer of the Tunis Bar Association and the Managing Partner of Houerbi Law firm, which areas of practice include mainly: Corporate Law, Arbitration and Litigation.

Sami Houerbi acts regularly as arbitrator under ad hoc and various international arbitration institutions.

He holds a post-graduate degree in international law from the University of Paris II and an LL.M in German Law from the Ludwig-Maximilian University in Munich.

His working languages are Arabic, English, French and German.

Sana Belaïd
Senior Counsel for the Middle-East and Africa (Cisco), Dubai
Independent Arbitrator

Sana Belaïd is Senior Legal Counsel for Cisco, supporting the sales activities of the company in Africa, the Gulf and the Middle-Eastern region.

Before joining Cisco in 2006, Ms Belaïd was a member of the International Arbitration department of two major law firms in Paris: Coudert Frères and White & Case. During these years, she worked on several ICC and ad hoc arbitrations. Ms Belaïd has two post-master degrees from the university Panthéon-Assas in public international law and comparative law.

Ms. Belaid is qualified to practice as a lawyer with the Tunisian and French Courts of Appeal.

Ms. Belaïd is also an executive coach and holds a certification from the prestigious Coaching Training Institute and a qualification in team coaching from the ORSC Institute in the US.

Ms. Belaïd is a member of the International Court of Arbitration of the ICC and acts as an independent arbitrator.

Soraya Corm – Bakhos
Counsel, International Commercial Arbitration, DWF (Middle East), Dubai

Soraya is a Counsel in the International Arbitration team of DWF (Middle East) LLP based in Dubai. Prior to joining DWF in 2015, Soraya practised within the Arbitration Department of Baker McKenzie Habib Al Mulla in Dubai for over seven years. She has wide-ranging experience in all types of international commercial arbitrations, having acted as advising counsel under major institutional arbitration rules (including ICC, SCC, LCIA, DIFC-LCIA and DIAC) and ad hoc in arbitrations seated in Europe and the Middle East in relation to a wide variety of industry sectors, including banking and finance, real estate/construction as well as oil & gas. Soraya also regularly sits as arbitrator (sole arbitrator, co-arbitrator and chair) in arbitrations mainly related to real estate, sale and purchase disputes and commercial disputes. Before coming to the UAE in 2008, she practised in Paris in the law firm of J.P. Karsenty & Associés where she gained extensive experience in advising on all types of civil, commercial and corporate transactions and representing clients before the French Courts in a variety of commercial disputes.

Soraya has authored a number of publications in the field of arbitration and more specifically in relation to Middle Eastern arbitration related topics. She is a member of ICC UAE and the Chartered Institute of Arbitrators. She is also a member of ArbitralWomen.

Soraya is fluent in French, English and Arabic.
Logistical Notes




Abu Dhabi Global Market Arbitration Centre, Al Maqam Tower, Level 20, Al Maryah Island, Abu Dhabi Global Market Square, Abu Dhabi, United Arab Emirates.



Registration




Registration Fees:

ICC Member – AED 450.00
Non-member – AED 900.00

REGISTER NOW



Contact Us

For more information, please contact Habibullah Rizwan at habib@iccuae.com or by phone to +971 4 220 8288.